FAMILY LIFE

William was born in Nettleton near Caistor in 1884. His parents were William and Caroline. Caroline was the daughter of William Cope who was a tailor and according to the 1871 census the family lived at Moortown near South Kelsey. She was born in 1862. William came from Mepal in Cambridgeshire. It is interesting to note that William Cope originally came from Whaplode, in the heart of the fens in the very south of Lincolnshire near to the Cambridgeshire border. William and Caroline were married in 1883 and their marriage was registered in Caistor in the 2nd quarter of that year
We have included images of the 1871 census returns on the next two pages, mainly as a matter of record but also as examples of how meticulously kept these records are.
William and Caroline, like so many of their generation, left the life of an agricultural labourer and sought a better life for themselves and their children in the steel industry. Thus the 1901 census shows them and their son William Gregory, who was by now an apprentice joiner, living at number 42 Ashby High Street. In 1891 they were living on the Screeds.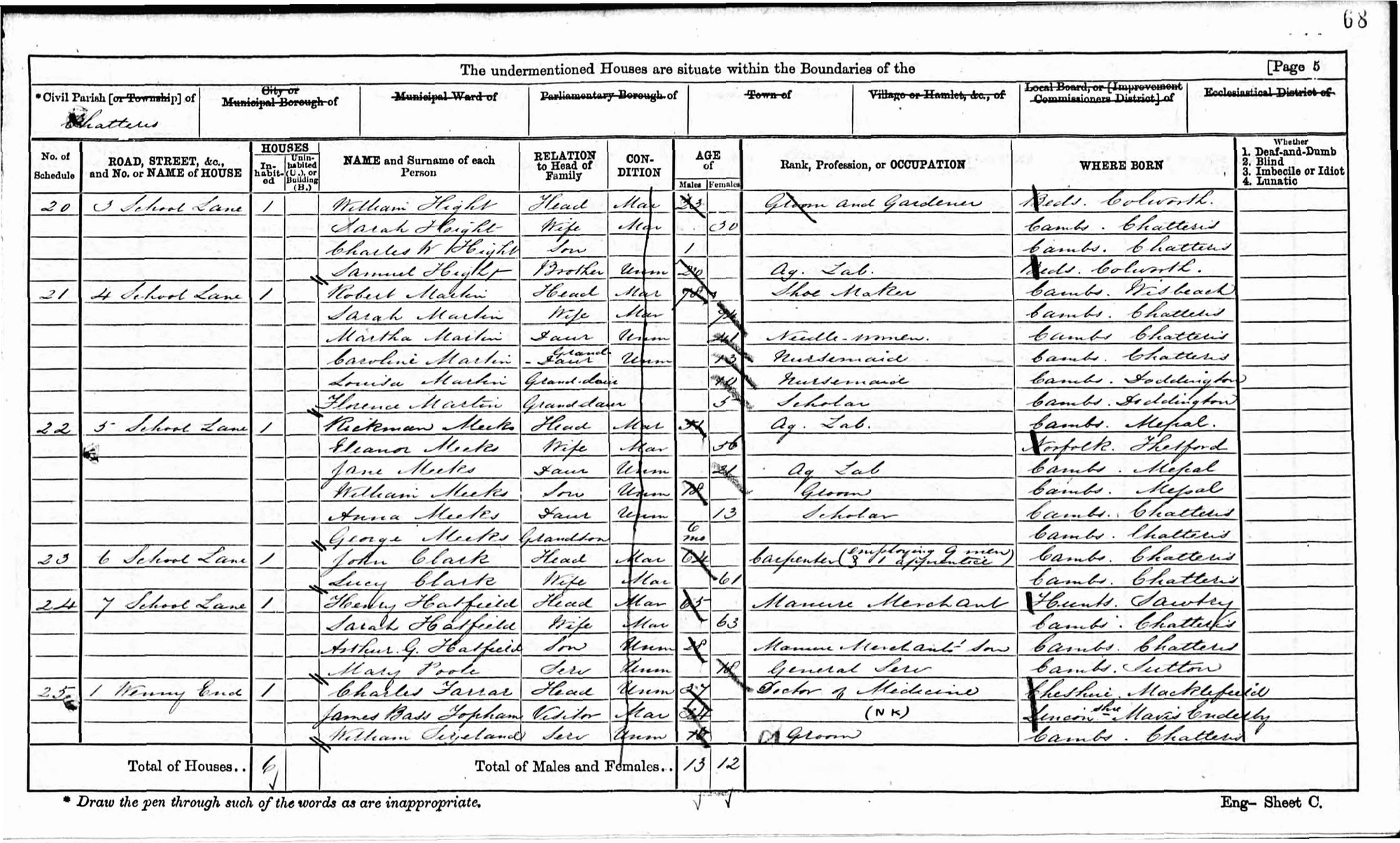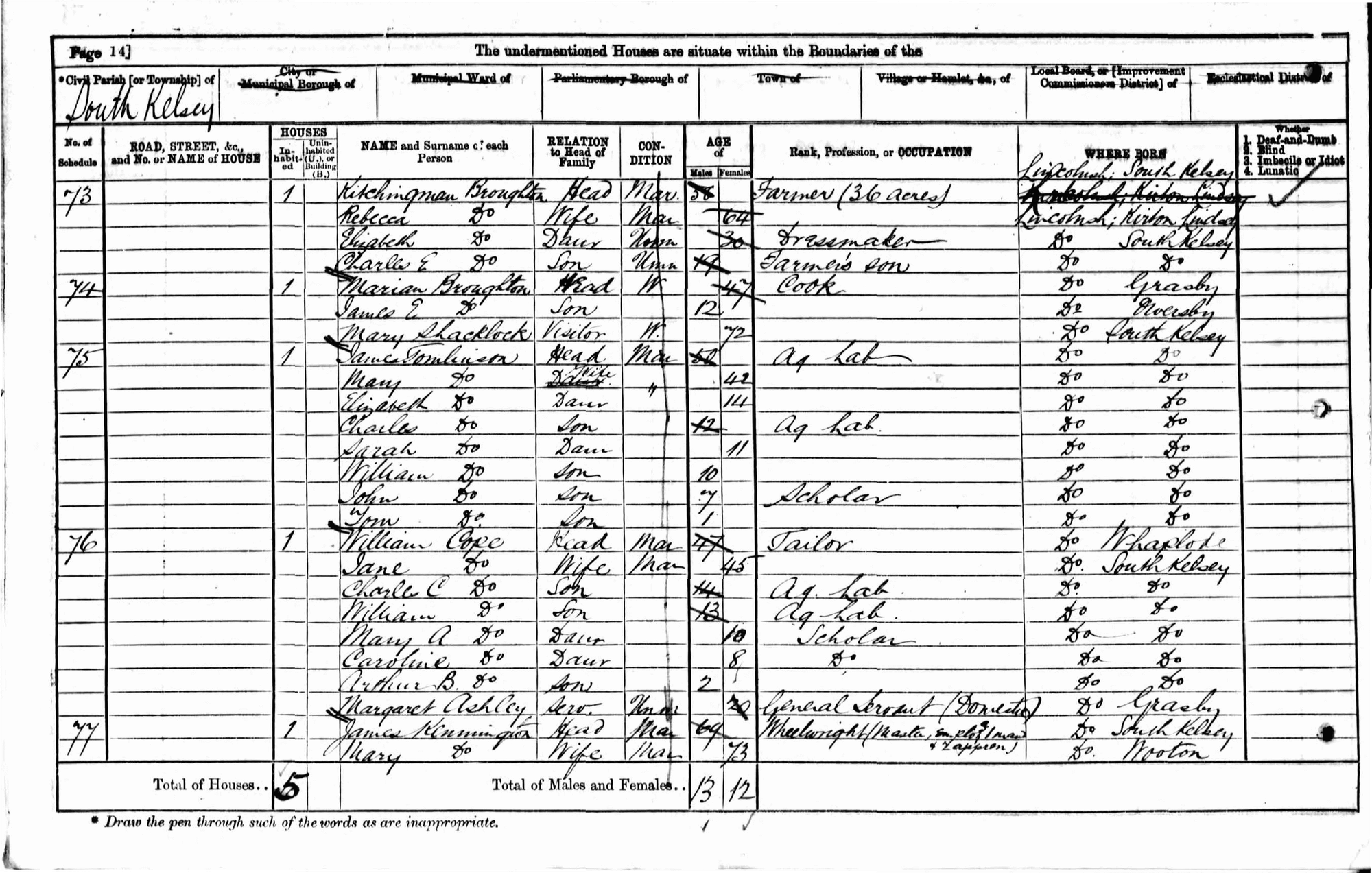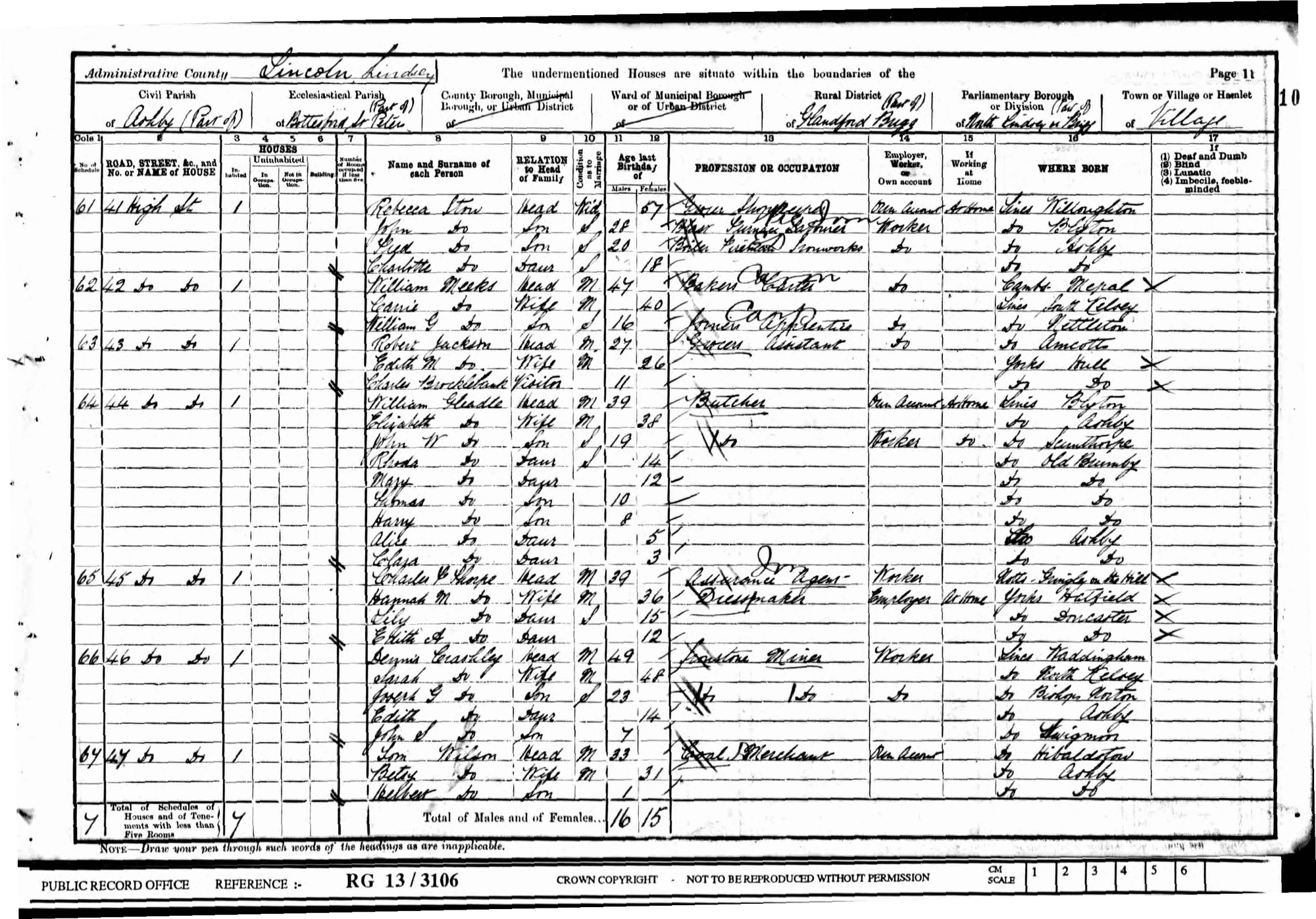 In 1915 William married Mary Annie Lawman from Kirton in Lindsey and the couple lived at number 17 in what was then known Brigg Road in Ashby. Whether this was the same address as number 42 High Street where William lived in 1901 we do not know. According to the 1905/6 map of the area the part of what is now Ashby High Street near North Parade, leading to Grange Lane, was listed as Brigg Road. It is almost impossible to give an exact location, but it is interesting to note that by and large the houses from the time have remained intact and are still inhabited after more than 100 years of occupancy. Caroline eventually died in December 1945, William in March 46 and Marry Annie in 1970.
MILITARY SERVICE
It is fairly safe to assume that William was conscripted. He served in the Royal Garrison Artillery, 278th Siege Battery.
The role of the Siege Battery
Siege Batteries RGA were equipped with heavy howitzers, sending large calibre high explosive shells in high trajectory, plunging fire. The usual armaments were 6 inch, 8 inch and 9.2 inch howitzers, although some had huge railway- or road-mounted 12 inch howitzers. As British artillery tactics developed, the Siege Batteries were most often employed in destroying or neutralising the enemy artillery, as well as putting destructive fire down on strongpoints, dumps, store, roads and railways behind enemy lines.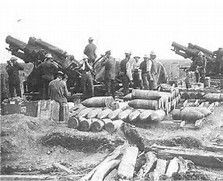 (This rather grainy photo shows two typical siege battery guns. They fired 60lb shells and had a range of about 6000 yards.)
We do not have any clues from the CWGC certificates and memorials for William as to exactly how he died. He was not listed as killed or missing in action neither did he, like so many others, die of wounds received. And yet he has a known resting place; Kemmel Chateau Military Cemetery which is 8 kilometres south east of Ypres.
Below are some photographs of the cemetery and his grave.